So who did I find they looked like together?… Kevin Zegers. (Pictorial is coming soon).
Originally, I found that Chris Pine and Kevin Zegers look a little alike with a long-round shape and blue eyes. Also, both have similar matches of real vs. animated looking based on long-round shape including:Chris O Donell and Leonardo DiCaprio and of Dimitri in Anastasia.
Image Credit:https://moviepilot.com/posts/3317660
Second, later on I found also from Anastasia looking at long-round shape that Nicole and Chris both have similar matches of Meg Ryan and after that I found so did Kevin Zegers, who had their similar matches. Basically, from male to female, real vs. animated of same movie or Anastasia, from Nicole & Chris to Meg and Kevin. I found they all look somewhat like each other with a long-round shape.
(For more about the female match Meg, click here). In this case, I found that Kevin looks like the both of them. How did I come to discover this? More about this below…
Altogether looking back,
First, Nicole and Kevin have the same length of almost egg-oval, yet trilateral to almost more quadrilateral shaped face. Then, I found that Kevin starts to look like Chris with a much wider to almost rounder, egg to trilateral shaped face.
Altogether, long to almost rounder like the both of them. He even has natural brown to blonde hair, fair skin light blue t blue-gray eyes. Also, for the most part he has done dramas like the both of them have, but has also done a few light comedies like Chris has done in the past.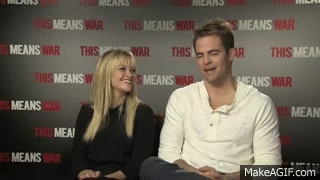 Now, the two never worked together in films but I think they met at Golden Globes. However, they both have worked with Reese Witherspoon (who is the woman in the last gif)
Anyway, just when I start to think I see one more so, I see the other, 50/50.So who do you think s/he resembles more so?… I would love feedback on the poll. I would love to hear others' perspective, feedback with the polls and/or comments.  I will be elaborating the combinations page. Thanks for visiting.