It's funny because I've been noticing more possible"Family resemblances".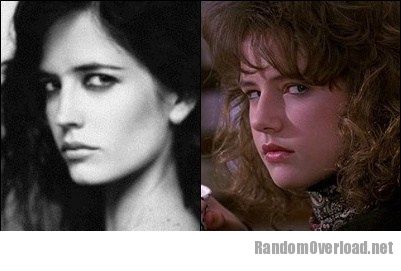 First, I was watching Uncle Buck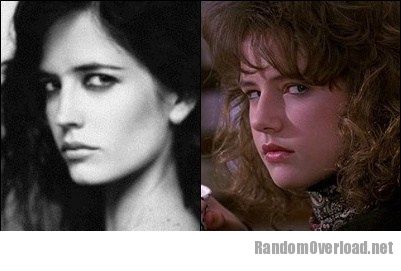 and found that his niece in the film did have similar face matches to Eva Green.
Like her, a very oval appearing shape like hers. But then, I found that someone else with matches close to Eva Green's
yet somewhat different, like the niece from Uncle Buck starts to look like Eva but with a more heart shape.
Not only I found that Brittany Murphy and her look somewhat like Eva Green could pass for being somewhat related. But, I found that Brittany Murphy even further starts to look not just like her but her Uncle Buck and his gf Chanice's oval appearing shape.
How did I come to discover this? More about this below…
Start to find the "Uncle Buck family resemblance" I found from Eva Green, Brittany Murphy and the niece all have an oval-almost more square shaped face, also with dark eyes, fair skin and natural brown hair. You can start to see the similarities in the three how they look alike yet different. But more about how I found this girl who could pass as the Eva Green lookalike's cousin, the niece of Uncle Buck below…
First, I found that Brittany starts to look like Chanice having the same length of almost oval shaped face.
Then, in width of shape she starts to look like Uncle Buck with a much flatter, trilateral-square shaped face.
In addition, she even has dark eyes, fair skintone and natural brown hair.
But, could you imagine Brittany in Uncle Buck had it been written differently? Then again, Clueless would've never been the same. Still, all around the same time frame and would've definitely been more of a family drama than comedy, like Thirteen meets
Anyway, just when I start to think I see one more so, I see the other, 50/50.So who do you think she resembles more so?… I would love feedback on the poll. I would love to hear others' perspective, feedback with the polls and/or comments.
More about the polls below…
Each one should have their own link and the poll can be available below. Clicking back should lead to main page.
I will be elaborating the combinations page.