So who might they look like together?…
This singer from the old band, Pre-solo Jesse McCartney "Dream Street". (Pictorial is coming soon).
I found this singer from an old music band, Dream Street (below on the far right).
looked a lot like two people from Lizzie McGuire around the same time frame of the late 90's to early 2000's.
First, I found he starts to look like Lizzie McGuire's crush on the below left Clayton Snyder aka; Ethan Craft.
Then, I found he starts to look like her bff Miranda, below on the right.
How did I come to discover this? More about this below…
First, the unknown singer has the same length of almost more egg shaped face as Clayton Snyder.
Then, in width of shape, it is slightly wider, even closer to egg shaped,
not as narrow and almost rounder-wider like LaLaine's.
In addition he even has the same dark color of hair and eyes, medium-dark hue of skin hue.
Also, even a similar expression. In addition to demeanor, never saw him in any films
but like the both he looks very moody, mysterious and dramatic
yet down-to-earth and low-key like the both of them.
But could you imagine thee two having a kid how many years later?
Lizzie would die knowing her bff went behind her back
because anyone who watched the show knew she had a major thing for him.
OMG guess she would have to just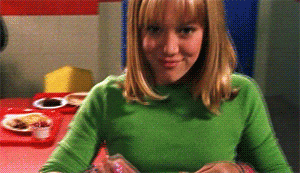 Anyway, just when I start to think I see one more so, I see the other, 50/50.So who do you think he resembles more so?… I would love feedback on the poll. I would love to hear others' perspective, feedback with the polls and/or comments. I will be elaborating the combinations page. Thanks for visiting.