So who would they look like together?…
Kristen Bell.
(Pictorial is coming soon).
I found the dynamic duo together looked like someone, one right before the other while watching Fun With Dick and Jane. This time I found a female, rather than a male match who was Kristen Bell.
How did I come to discover this? More about that below…
First, I found that Kristen has a long-round shape, the same length of Tea Leoni's oval appearing shape.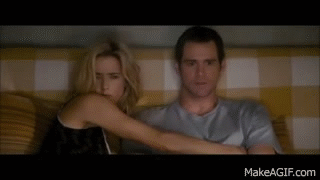 Then, in width of shape it is trilateral-almost wider to square-shaped like Jim Carey's.  In addition, she even has in between almost green, blue-gray to hazel brown eyes like the both of them.
In addition, she has done serious and silly roles including
playing a modern-day  Nancy Drew detective, a mean drama queen/stage performer,
a singing Disney princess and even the average every day girl next door.
Anyway, just when I start to think I see one more so, I see the other, 50/50.So who do you think she resembles more so?…
I would love feedback on the poll beneath the link, leading to this page. I would love to hear others' perspective, feedback with the polls and/or comments.
I will be elaborating the combinations page. Thanks for visiting.