So who would they look like together?
Leonardo DiCaprio. Now, quick heads up for anyone who finds Meg's legendary scene in When Harry Met Sally in the diner, offensive or disturbing feel free to skip it. If you would like to skip past the gif of Meg below Leo its up to you. That being said…
I found Leo looks like the both of them. How did I discover that? More about that below…
I found that Leo had the same matches of male and female as these two from somewhat long-round, trilateral-quadrilateral shape:
Basically, you can see the similar matches from Leo-Billy (almost egg shaped-square)
Of Male: Max Theriot
Chris O Donell
Chris Pine
Matt Damon
Josh Hutcherson (With an almost egg shaped face to heart square).
and of  Leo-Meg.
of Female:
Nicole Kidman (left)
Melanie Griffith
and Sarah Michelle Gellar (on the right). (With an almost oval shaped, somewhat narrow & long, trilateral-square shaped face).
But, how did I found he looked like the two of them together? More about that below…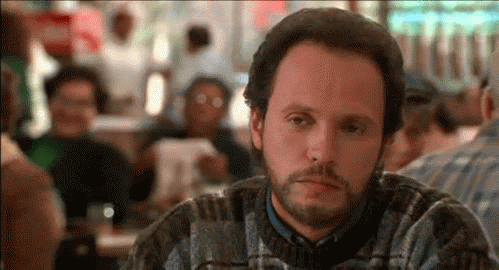 First, I found Leo starts to look like Billy Crystal having the same length of trilateral to almost rounder shaped face. Then, in width it is much narrower-almost more quadrilateral shaped like Meg's.
He even has in between blue-brown eyes like the both of them, fair skin and natural brown hair. In addition, the two together in the movie were successfully dramatic, one big scene after the next, but also somewhat silly too-just like Leo.
Anyway, just when I start to think I see one more so, I see the other, 50/50.So who do you think s/he resembles more so?… I would love feedback on the poll beneath the link, leading to this page. I would love to hear others' perspective, feedback with the polls and/or comments.  I will be elaborating the combinations page. Thanks for visiting.