Anyway, the name Chris seems to be common in Hollywood. Two out of the four have worked with Zoey Salanda (In addition, I have found matches for Salanda and Pine;Pratt here and here). But, first it helps to disassociate.
Now, that can be confusing right? Therefore one might associate one for another. For that reason it helps to disassociate all of the Chris'. Or, as I like to call this exercise, "Chris-ociate". One by one comparing and identify by shape. This is just an article, not a quiz. But, once reading through the concept might help compare-identify each Chris a little easier.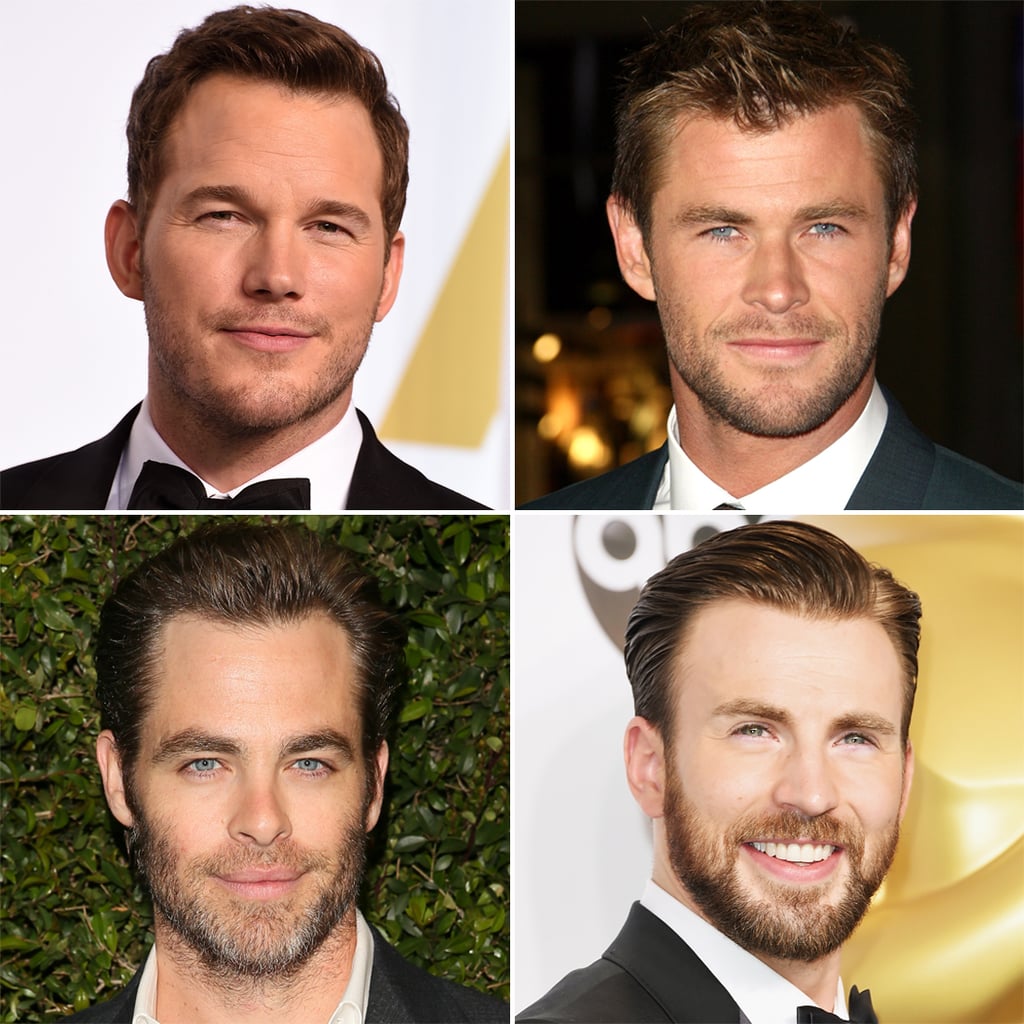 More about that below…
First of all, there are so many Chris' in Hollywood and most of them are doing action adventure with/out a beard, with brown-blonde hair and blue-green eyes, even long-round shape.
So, just to set the record straight dissociating these four similar names, face to face, a face off if you will of who has the roundest shape in addition other qualities to compare against Chris Pratt.

Chris Pratt from Guardians of the Galaxy vs all of them…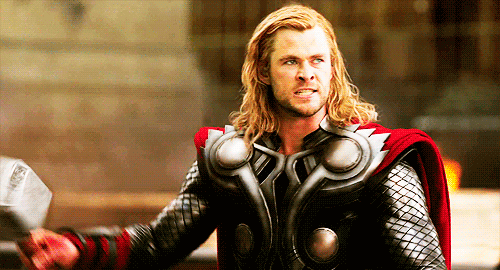 Round 1: Chris Pratt vs. Chris Hemsworth (From Thor and the Snow White Huntsman movies)
Round 2: Chris Pratt vs. Chris Pine (Star Trek and Jack Ryan)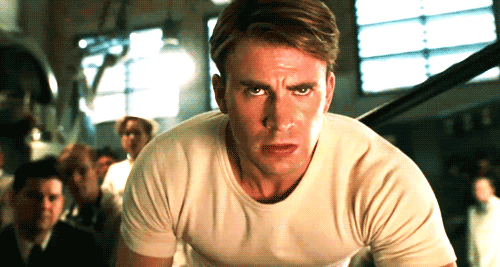 Round 3: Chris Evans (Captain America also featured in The Avengers, What's Your Number)
---
Round 1:
Similarities:
First, Pratt and Hemsworth to the left of him have the closest to egg-shaped face.
Second, they both have an eye color very light/dark on very high-low on either end of the color spectrum of green-blue.
Differences:
Pratt was in Guardians of the Galaxy, more of a comedic actor with an American accent.

Whereas Hemsworth in known for playing Thor and the Huntsman in Snow White, more serious and the only one of the four with a strong accent with the brightest eyes known for the longest time with his blonde hair.
Pratt's face shape is second roundest to almost long angular-conic while Hemsworth on the right has an almost egg shaped face, very long but also full, almost rounder-egg shaped.
Basically who wins in this round, this face off?…
Winner: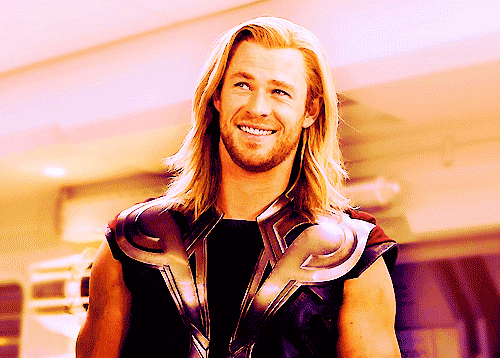 Chris Hemsworth.
In the end Hemsworth has the roundest appearing, most defined shape  While Pratt takes 2nd in the roundest shape (almost more long angular) .
---
Round 2: Chris Pratt (above on right) vs. Chris Pine (below on left)
Similarities:
Side-by-Side, they both have a long-almost egg shaped face. (Pratt is on the top right and Pine is on the bottom left).
Both were considered to play the next generation, revamp of Indiana Jones playing the legendary Indy himself.
However, Hollywood really wanted Bradley Cooper who turned it down and Harrison is serious about taking on the role.
Anyway, they've both done British impressions and surprised people with their singing voices as well. Anyway, Chris Pratt from Guardians was considered and so was Chris Pine.
Differences:
First, projects: Chris Pine is known for more serious roles and action adventure movies such as Jack Ryan and Star Trek.
He has been in supporting roles since before to the early-mid 2000's.
Second, referring to the shape: Chris Pine's is much egg shaped to almost narrower-quadrilateral
with close face matches somewhat closer than Pratt to
This slideshow requires JavaScript.
Chris O Donell and Max Theriot. Not as close to long-angular as Chris Pratt's shape.
Finally, Chris eyes are much brighter, the second brightest next to Chris Hemsworth.
So who wins for close to roundest shape, in addition to also having much brighter eyes than Pratt?
Winner:

Chris Pine
---
Round 3: Chris Pratt (on the right) vs. Chris Evans (on the left).
Trying not to make it confusing but there were two Chris' playing Avengers superheroes-no, not Chris Pratt. (More about that below).
First, Hemsworth who played Thor and Evans known for playing Captain America. Later, teaming up in Marvel's the Avengers. (Hemsworth is on the far right and Evans is on the right next to Iron Man played by Robert Downey Jr).
Similarities:
Chris Evans has also done the lighter side of Romantic comedies like Pratt.
They have actually done a movie with one scene together called What's Your Number.
Now,  looking at the both of them Anna's character from What's Your Number had a thing for the both of them with a long-round face, brown hair, blue eyes and funny personality.
Differences:
Chris Evans played one of Anna Faris' love interests-yeah that narrows it down lol and off-screen x-husband who made one cameo with Pratt next to Faris. He also surprised the audience with a hidden musical talent as well. His face matches are closest to Freddie Prinze Jr and Chad Michael Murray from a narrow-square shape.
He has the third lightest eyes, slightly lighter than Pratt's. While Pratt's eyes are darker than his and darker than the rest.
So who wins this face-off?
Winner: Chris Evans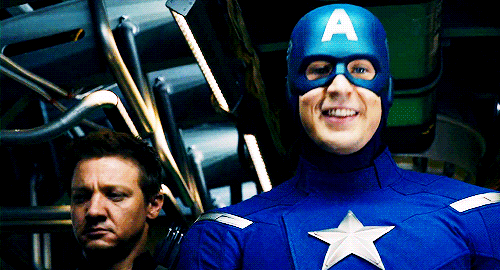 Evan's shape is the third roundest and almost narrower-square shaped.
Sad to say, Pratt (top left) loses all the face-off rounds. But, just against these action adventure characters. (from top-bottom right) against Hemsworth on the far right, Pine on the bottom left and Evans on the bottom right.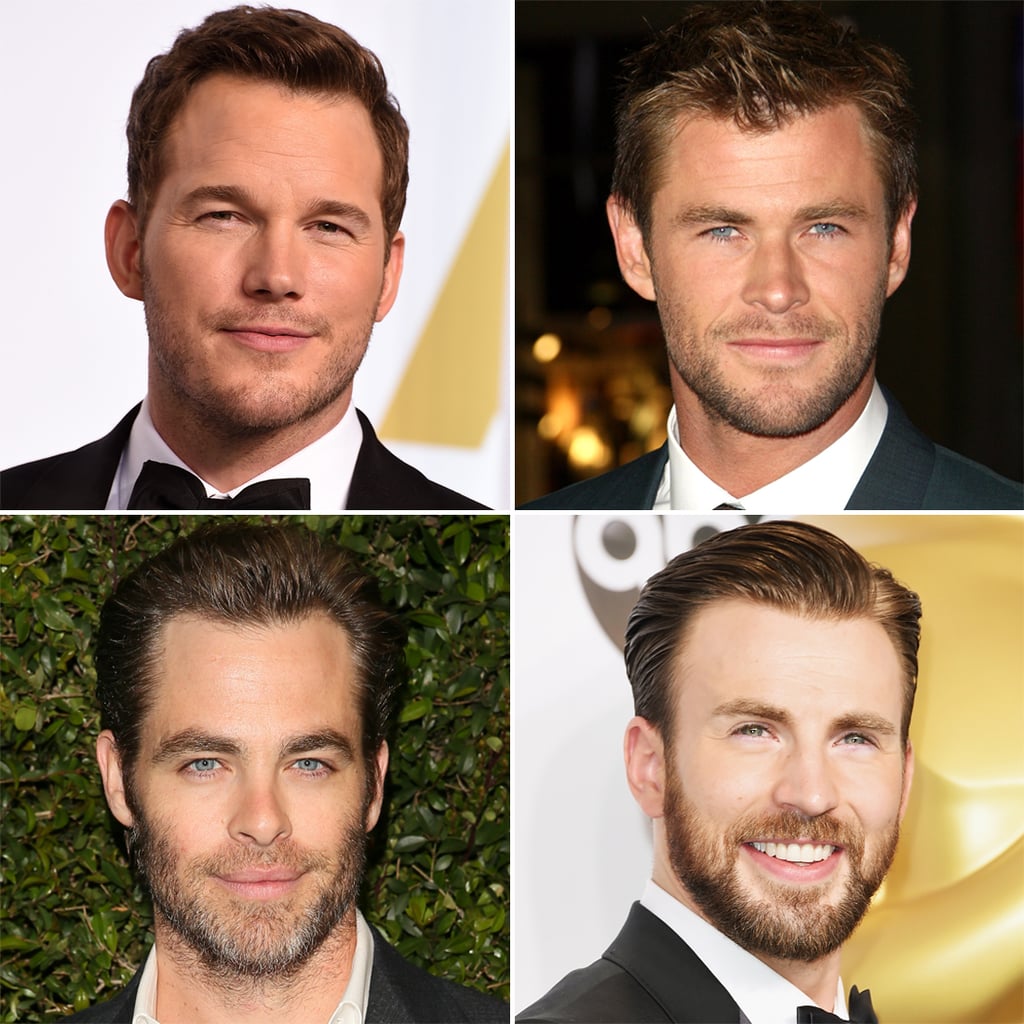 Does this make him a loser?
No, his face shape is least close to egg-shaped, not as close as others, a practical contender, his face shape not as round, more long angular unique therefore one to remember.
So basically, Pratt has the closest to long angular-conic shape, with the darkest blue eyes and the silliest personality of them all who have done more serious/action adventure roles than he has. Which is a way he can be remembered.
---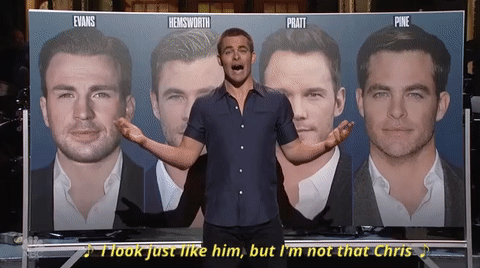 LOL There is a fine line between all four side-by side More about that below…
Here are the answers, the actual face shapes that they all have:In between heart-egg shaped, trilateral (also after Pratt from light-2nd darkest eyes)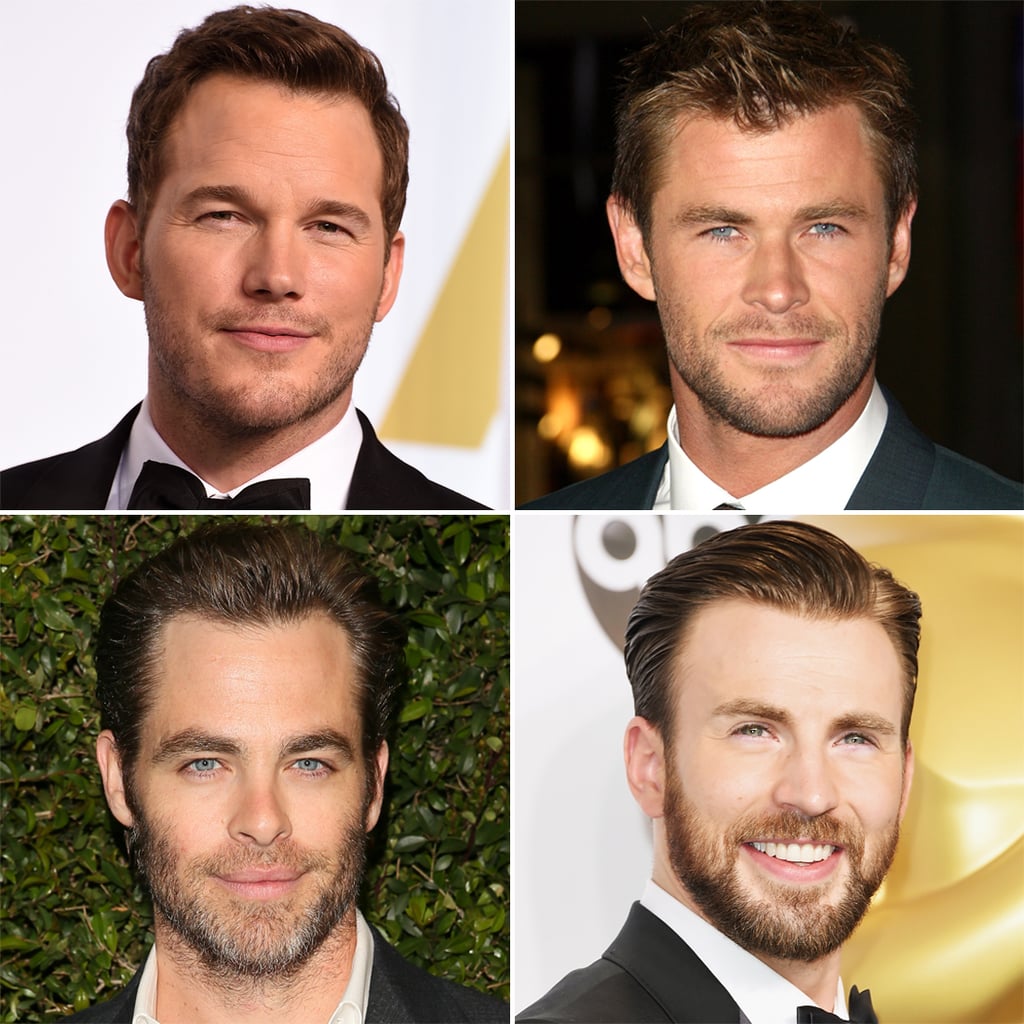 Chris Pratt's (almost long angular-conic) "App Elliptic (Egg) Shaped".

Chris Hemsworth (closest to egg shape of the four) "App Elliptic (Egg) Shaped". (Notice how much rounder-wider the shape is of the four?

Chris Pine (2nd closest to egg shaped of the four) "Semi-Long Heart shaped". (Notice how it appears almost longer, but almost wider-rounder, egg-shaped?)

 Chris Evans (much narrower, almost heart-square shaped) "Semi-Long Heart shaped" .(Notice how is is almost much flatter-more quadrilateral, flattest of the four?)
Just a quick dissociation exercise. In conclusion with or without the same first name, seeing they all look similar in shape it helps to dissociate or in this case"Chris-ociate" these four in this Which Chris is Which face-off visual exercise.
In addition, I have also made a Chris Pratt face shape diagram now available in the face shape galleries as well as the others so you can see for yourself. I am also working on a diagram for Chris Evans as well.
I hope you enjoyed it and thanks for visiting.
Back to…
or Back to…