So who would look like together?…
and younger in cartoon form…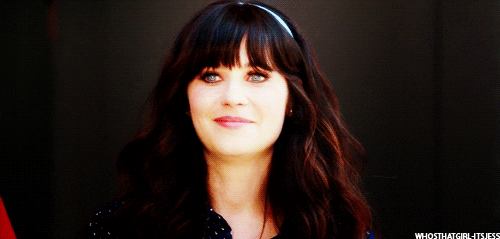 I even found who the cartoon looks like exactly having the same matches like of mine, Nicole Kidman-Amy Adams -somewhat Zooey Deschanel-Jennifer Lawrence with a long-round trilateral-oval shape with dark eyes. (In addition, I will provide that visual in the future). But, more about this cartoon below with the same qualities.
Here is the original source I found the picture more about that below…
If you read the article basically, this was the depiction of a female version of the Harry Potter character, thus somewhat like him yet different. I found the other half, female who could pass as the mother in this case, Zooey Deschanel from Yes Man.
More about this below…
It's not just the Daniel's character's glasses and Zooey's famous blunt black bangs, I found that the shape of face of whole person looks like them both.
(Here is the original image, not mine)
First, the cartoon has the same length of Daniel's egg shaped face, very round appearing at first.
Then, she starts to look like Zooey in width of face shape, heart-elliptic shaped, slightly narrower. She even has dark blue-green eyes, dark brown hair with bangs and very fair skin like the both of them. But, could you picture Zooey with an English accent?-lol!
In addition, I have just found a real face for the second female match-Aubrey Peeples.
Just like the cartoon, an oval shape. But, almost more egg shaped like Daniel to almost more narrower-heart shaped Zooey's. She even has natural brown hair as well.
Anyway, just when I start to think I see one more so, I see the other, 50/50.So who do you think s/he resembles more so?… I would love feedback on the poll beneath the link, leading to this page. I would love to hear others' perspective, feedback with the polls and/or comments. Thanks for visiting and I will be elaborating the combinations page. Thanks again for visiting.