So who would their lovechild look like?…
Me.
I know WTF right? Peculiar indeed. But, seriously, I found that Asa looks 1/2, sw like me in another scenario (For more about that, click here).
First, I found that Asa Butterfield like me has somewhat close matches like me having  somewhat of a resemblance of male matches including Jude Law and Kevin Bacon-Josh Hutcherson and female matches of Nicole Kidman-somewhat like mine-my cousin's matches including: Amy Adams-my cousin; Jennifer Lawrence (For more about that, click here and here-coming soon).
Second, I found that Eva Green and I both have similar matches of Nicole Kidman-Amy Adams-Sarah Michelle Gellar;Jennifer Jason Leigh and like Anne Hathaway but with a much narrower-longer shape. Also, somewhat like me in another scenario that me and another person together look very close to her-somewhat Emma Watson having similar matches (For more about that click here). Then, in a few different ways including shape, matches in addition demeanor I found that Eva looks like 1/2- somewhat like me in another scenario (For more about that, click here).
More about Eva Green…
Even besides the matches I found that she  reminded me of a dark, much more dramatic version of Nicole Kidman (In addition, for more about who else I found she looked like besides Nicole click here).  Actually watching her movies, she first reminded me of those people before I even looked up her matches and looked at her face shape up close.  Maybe, it wasn't just seeing a dark version of Nicole Kidman in her, I was seeing a bit of her in me too. I found after watching myself on-screen and her on screen we both sound alike as well speaking an American accent lol.
Altogether, later on looking side-by-side I found that I start to look like a little bit of both Asa-Eva.
How? More about that below…
First, I found that I looked 1/2-somewhat like Asa. Later, I found that Eva Green and I have similar matches to later discovering that I look like Asa-Eva at the same time.
Looking back altogether, I found that I have the same length of Asa's trilateral-quadrilateral shaped face.
Then, in width of shape I start to look like Eva Green with a slightly rounder-narrower, almost more oval appearing shape.
In addition to demeanor I has very fair skin like the two.
Also, color can be a tricky thing, but looking closer at the concept and comparing it finding the likeness and differences shining through just as I have for faces, most of the matches found have the eye color in between whether looking at the light-darkness of it or, in between the color exactly.
For example, I have medium-dark eyes like the two. Sometimes appear much lighter like Asa's green-hazel ones. But, sometimes much darker like Eva's blue-green. Altogether, having in between blue-green, somewhat hazel-light brown or brown eyes.
But, still speaking hypothetically looking at two faces at once combined or "Concieved" really in this case I found together they both look like me. In addition to demeanor, I have had my dark, dramatic moments like Eva Green's characters and have been called a w-itch once or twice in the past. But, I can also be more like Asa's characters with a good heart (so I have been told), a little serious-silly and well you can tell especially with this example eccentric or peculiar case.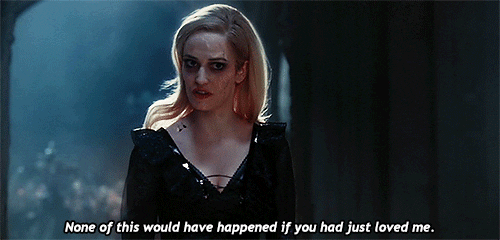 Peculiar huh? Peculiar indeed.
No, need to judge just mean in sense of the concept referring to the movie called "Peculiar Children", that the sequel would have a peculiar, somewhat familiar character that I found based on similar matches of the face shape combined look somewhat like me.
It's funny, I always thought I looked somewhat like both of them yet somewhat different. But, it didn't occur to me that it was a resemblance of both of them at the same time until I saw the Peculiar Children trailer. Funny, peculiar in this case how time is the essence.
Anyway, just when I start to think I see one more so, I see the other, 50/50.So who do you think s/he resembles more so?… I would love feedback on the poll beneath the link, leading to this page. I would love to hear others' perspective, feedback with the polls and/or comments. Thanks for visiting and I will be elaborating the combinations page. Thanks again for visiting.