ub
Congrats! You are finished taking the quiz. Here are answers for 1-10 below…
# 1: b)
Close call, seeing they both look great for how many years after their claim to fame. However, this Alyson Michalka (above) who made it big on Disney in the early-late 2000's
with her sister AJ Michalka singing to promote their albums and starring in movies. But, when a solo act, she was Phil's bff forever from the past in Phil of the Future. Whether blonde, or brunette, younger or older. She definitely could pass as an even younger Geena Davis.
Geena Davis (left) and Alyson Michalka (right). For more about the two, click here).
# 2: b) Taaron Eggerton
"Say what"? IDR Josh Hutcherson from the Hunger Games in the movie later promoting the Kingsman Secret Service. Actually, no common mistake, this is the new, similar but different British version of Josh Hutcherson known as Taaron Eggerton.
Both are close to the same age and on the considered Hollywood B-List working with a lot of big names in action adventure movies lately. They both have a very wide face and are not very tall. However, Taaron Eggerton is in the picture. The slightest differentiation looking at the two can be compared primarily in shape (more about that here).
# 3: b) Noah Silver
Well part can be found in Noah Silver .
For a few examples, the character Harry Potter had jet-black hair much lighter, green eyes. Also, Daniel Radcliffe has a much rounder face and blue eyes. You can see in the photo this picture of new-comer Noah Silver starring in the new FX show Tyrant looks like him with the jet black hair.  But, it is actually Noah Silver who has much lighter (hazel) eyes than both Daniel and his character, Harry's eyes. For another reason, his face shape is almost egg shaped and rounder like Daniel's yet somewhat different, flatter, heart shaped and slightly more elongated. You can see how they are alike in one way, but are different primarily in shape along with coloring of eyes and hair.
#4: a) Maggie Lawson (far right).
Well, I guess in this case it sort of does take a detective to figure this one out. Looking through a magnifying glass, closer at the visual clue this is actually Maggie Lawson who guest starred on a bunch of different shows/movies, some on Disney and later making it big playing a detective character on Nancy Drew, some lifetime movies and biggest hit:the Psych show.
Most recently, she has been on two shows including one on the CW with Jane Lynch and Back In the Game previous to that with James Caan.
The two are easily mistaken for the other. In addition, the lookalike I made of the two below (for more about that click here)… was most commented and viewed in the beginning because they both look like each other, have guest starred in tvs and shows, but are not as famous therefore as known and identifiable. Mystifying at first seeing how they are "Vaguely familar" . Easily mistaken but, now that mystery is solved here is a new case with a new face.
#5: b) Asa Butterfield
The glasses weren't the right fit and actually, he would've been no more than 5-6 years old, a little young for the part. Asa is British like Daniel, and like both Liam and Daniel, looks somewhat like the book character.
(Also, Liam from Stepmom was the original choice considered to play Harry. However, unlike Daniel and Asa above, he was not British so the role went to the boy that bewitched the casting crew, Daniel Radcliffe).
This one's easy to get wrong as well because he has dark hair, blue eyes and is also British like Daniel Radcliffe/the Harry Potter character himself, easily confused. (For more about this lookalike, click here)
# 6:a)
Actress Amanda Seyfried is on the left and singer Charlotte Church is on the right with an almost more oval shape. They both have natural brown hair and blue-green eyes. But, Amanda with a more heart shaped face is the real Karen Smith from the movie Mean Girls which was three years after A Beautiful Mind featuring Charlotte Church's song All Love Can Be on the soundtrack in 2001 and has released her own cd albums in the past as well.
They both have a doll-like face don't they? Heart shaped and almost rounder appearing with blue-green eyes? Understandable, when I first drew Amanda Seyfried, I ended up drawing Charlotte Church. I knew who Amanda was, but was still in the smallest increment, associating likeness and not looking at the shape. As a result, it was executed that way, very close yet slightly different. (For more about the lookalike itself, click here).
# 7: a) Evan Rachel Wood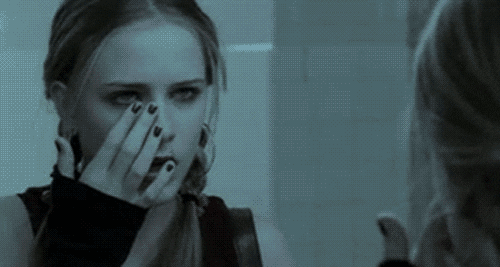 Whether or not, Kristen Stewart is very famous, her name is easily remembered, you see her face in the magazines and you know her for playing Bella in Twilight with her usual brown hair. Also, she has blue eyes and much darker skin. She has never done a movie with Ryan Gosling. Nope, that's not a photoshopped Kirsten Stewart in that photo that is Evan Rachel Wood who also starred in a movie with another Twilight vamp Nikki Reed.
Like Kirsten, Evan made it big as a child star just the same even shared the same magazine cover with her. Kristen is on the bottom left and Evan is on the top right. You can see from opposite ends across from one another they look alike yet somewhat different.
Here is the lookalike below…
(For more about the lookalike, click here).
So, Kirsten may have played the "Fairest of them all" with her complexion playing Snow White (on the right). But, in this case the similar face on the left even more fair skinned actress on the right known as Evan Rachel Wood could just as be easily mistaken for a very fair Bella/Snow White from the Huntsman movie aka;Kirsten Stewart.
#8: a)Riley Smith
Riley Smith is in the photo. He started out modeling and became famous in the DCOM Motocrossed. He has also guest starred in movies and tv shows such as Radio, Ghost Whisperer and True Blood, most recently Nashville and Frequency. Shane West is known for playing Landon in Walk to Remember around the same time Riley Smith became famous. However, Shane West was acting much earlier before him, making an appearance on Boy Meets World, Buffy, Nikita show and most recently, Salem.
These two aren't super famous and they were in movies way back when so it might be harder to recall was a tough call. Also, making it a little more confusing they even met each other as well. They are alike, but somewhat different. They may both have long-round semi-long heart shaped faces. But, Riley's is almost more egg shaped and Shane's appears to have a more rectangular-quadrilateral form. Riley usually has blonde hair and Shane usually has brown hair. You think Adam Brody sees the similarity in these two late 90's-2000's heartthrobs left and right? (For more about the lookalike of the two, click here).
#9: b)Kelly Monaco
Sarah usually has blonde hair. But, she has green, not hazel eyes. Her face shape is more conic and Kelly on the left has more of an oval form. You can see they lookalike but then start to see they are somewhat different as well. This one was one of the harder ones because Kelly Monaco's not super famous like Sarah and Sarah sometimes appears to have a much wider, rounder, oval face when she was younger and sometimes appears longer-oval like Kelly here. (For more about the lookalike, click here). This was not an easy one, but now that you have confronted that hidden demon known as "Association"in the subconcious onto the last one.
#10: a) Sarah Gadon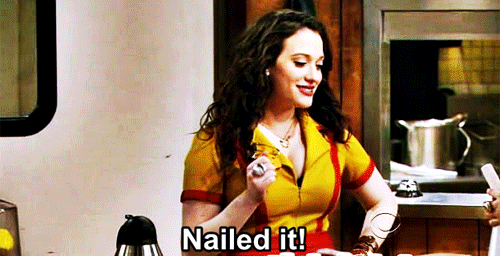 Kat Dennings (below) won the role in 2 Broke Girls with her usual brown wavy hair. Even way before that, Kat Dennings was acting way before than in a DCOM before Sara known as The Scream Team.
around the same time Sarah Gadon was on Disney Channel Cadet Kelly and the Other Me, most recently known for the newest remake of Dracula.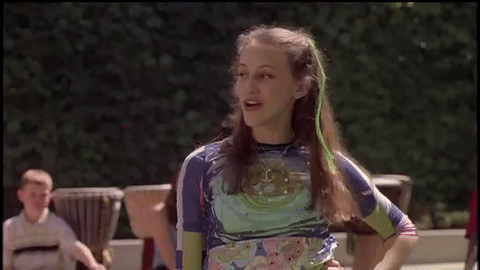 Both might lookalike, be blonde with brown roots, an oval formation of shape and very fair skin. Another reason one might associate the two is because they have been in a DCOMS from the late 90's to early 2000's and have both worked with Hilary Duff.
   However, Sarah's shape is almost more oval shaped and Kat's shape is long heart shaped, somewhat round and almost longer-rectangular.
Now that you figured out what the answers actually are according to the right and wrong ones, let's see how frequent… (For more click Next below).