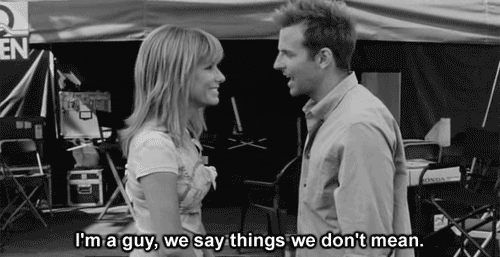 Let's just say the feelings of the characters towards each other in the film weren't mutual. Even though the movie All About Steve wasn't the best ever made, let's not beat a dead horse. This is more about who would the two Hollywood A-List actors would look like together.
So who would their lovechild look like?…
This unknown brunette Nicole Kidman-Amy Adams sw Jennifer Jason Leigh lookalike.
First, I found that Sandra Bullock like this unknown actress received similar female matches for this unknown, Nicole Kidman-Amy Adams-Sarah Michelle Gellar and Jennifer Jason Leigh from long-round and wide-square shape. Then, I found that Bradley like this unknown received similar matches, somewhat-to 1/2 of Amy Adams-my cousin (For more about that, click here) having a face shape not too long-wide, somewhat round and trilateral.
Later on, I found that this unknown famous actress looks like the both of them with a similar face shape-even eye color (More about that below)…
Looking back altogether, I found that this unknown actress looks like the both of them having similar face shapes and having matches ranging from
Nicole Kidman-Amy Adams, somewhat Jennifer Jason Leigh and my cousin.
More about how I found she looks like Sandra along with Bradley side-side.
First, she looks like Bradley Cooper in length of trilateral shape, somewhat heart-shaped, almost wider-square like his. Then, she starts to look like Sandra Bullock with a slightly wider face, more quadrilateral from square-rectangular, but almost somewhat longer and rounder heart-shaped like her.
In addition, she even has natural brown hair and the same hazel eye color in between the two's brown-green. Can you imagine if All About Steve had a sequel and she ended up having a girl? She would end up looking somewhat like this unknown with female matches, similar in shape of the both of them to mine like Nicole Kidman-Amy Adams;Amy Adams-my cousin and somewhat Sarah Michelle Gellar-Jennifer Jason Leigh from long-wide shape.
Now, looking at the face shapes and the matches of them, she is somewhat like me, yet somewhat different. (For more about how click here). So, either I look more like Bradley or Sandra. I will have to look at that myself. I'm thinking that might be continued from this post-we'll see.
Now, it's up to you to vote to see who will resemble who-more about that below…
Anyway, just when I start to think I see one more so, I see the other, 50/50.So who do you think s/he resembles more so?… I would love feedback on the poll beneath the link, leading to this page. I would love to hear others' perspective, feedback with the polls and/or comments. Thanks for visiting and I will be elaborating the combinations page. Thanks again for visiting.