Current updates? For more, scroll below…
If only it were that easy lol-working on a few new drawings.  More about that below…
As I have said time after time, it helps to nail who by what when you are drawing-hence the face shape. On a personal level, I am trying to nail realism. I know what to do, it's just how to apply them. This what I have so far in terms of it coming out the best through the process of scanning it (aka; some of the detail has been lost, but you can still tell who it is which is kind of the idea). Now, these pics mostly have everything but the eyes completed. But anyway…
(From personal opinion anyway) of Ranking:
Person Best of (Embellishment of because the photo was very low quality) Color (w/ cartoon-like quality):Zooey Deschanel
---
Personal Best in terms of Detail (Able to see who it is from far away) goes to: Paul Walker (R.I.P)-Okay slight exaggeration, on purpose, I embellished and made him look a little younger. Also, if I had drawn the shape any longer he would start to look like Cam Gigandet
I had just made a lookalike of the two and almost drew one for the other. Coincidence? I find to disassociate, it helps to know the shape. In this case, Paul's is almost wider-square like Bradley Cooper. But more about Paul, her is the drawing below…
---
Personal Best in terms of Manipulating Objects Original Color (Using Gradient from top to bottom, using yellow-green and blue-black) giving a sense of in-between stage of  Cartoon-Realism, almost more surreal in the background looking at the skull. This one goes to…
Emily Deschanel
---
Personal Best Surreal Piece: Emily Blunt– In a word, more complex. I start to manipulate the use of color and used and in between use of expression. Its funny because the color looks like a color of an underwater sea witch/ice queen which Emily has recently played herself. Also, the use of the color in the background with how some of the pictures appear to be floating give the sense she is either in a frozen/ice capsule or underwater. This makes it more surreal. As far the expression goes, I decided to challenge myself and draw it just like the photo with a hidden smile in the end of one of her movies where her frown fades and she starts to smile, a hidden smile aka; She may have played a mean queen/witch once or twice in the past, but looking at the calm nature of smile you can see her heart is not ice cold, is human too.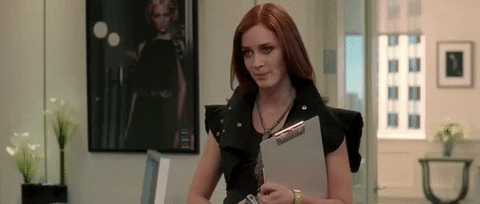 ---
Personal Best Adobe Illustrator-like Piece: Between Cartoon-Realism, nothing surreal with concise lines and use of color goes to: Eva Green. Now, the scanner didn't pick all the color up, so for that reason I may enhance it, just to see it better.Still, you can see some of the silver-gray and the black and blue used for the straps of the dress and hair.
So far, I have figured out color in a more controlled method. Now, it is just more specific in terms of how I chose to use it for an ongoing theme or referred to as "Color scheme". But, I refer to just call it a (color) theme, shorter name. Anyway,  looking at these most recent ones in the process I am figuring out not so much who or what anymore but how to nail that concept yet to be mastered. It's not so much of a conceptual deal, more figuring out what makes it tick in the process. Or, what most people may refer to as…
I have figured it out by looking at the subject matter of portrait: Who? What? When? Where? How?…
Exactly! That is how I have figured out to nail specifics in terms of realism. Once I figure that out I will finally have some realistic looking pieces.
So, have been working on those and posts just the same. The timeline post (featured on the main page under "Developments", is still in the making. Most of it is available and I am releasing bit by bit seeing its a big concept which needs slow introducing to.