I couldn't find a gif of Uma from Gattaca but they were together in the movie. No really, I found that Max Theriot looks like the both of them. How? More about that below…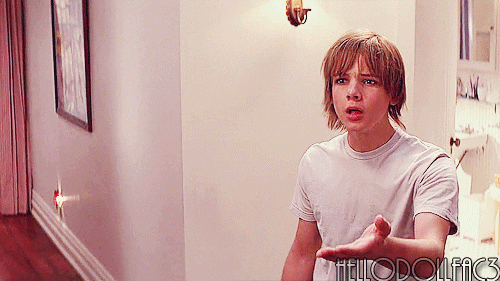 First, I found Jude and Max have similar matches from Chris O Donell-Leonardo DiCaprio somewhat with a long-almost rounder shape. In the movie Rise of the Guardians movie who knows maybe Max Theriot was the inspiration for Jack Frost?…
Funny how all of those animated characters look somewhat alike after awhile.
For one, Pitch is drawn very close to Jude Law and Jack Frost is drawn closest to Max Theriot-Leonardo DiCaprio, somewhat of Chris O Donell-Chris Pine.
But, more about how I found he looked like Jude-Uma as well…
First, I found he looks somewhat like Jude Law with the same length of long-somewhat round shape. Then, I found he starts to look like…
Uma Thurman with a width of face shape slightly elongated, almost rounder shaped like Uma's.
In addition, he even has blue eyes with gray-green in them like the both of them. He can be somewhat funny but more serious, darker and dramatic and he has natural brown hair. But, could you picture him doing an English accent like Jude?  lol
Anyway, just when I start to think I see one more so, I see the other, 50/50.So who do you think s/he resembles more so?… I would love feedback on the poll beneath the link, leading to this page. I would love to hear others' perspective, feedback with the polls and/or comments. Thanks for visiting and I will be elaborating the combinations page. Thanks again for visiting.