That's not exactly a valid statement in this case. We all have our own face shape. Even if there was another person who looked like Kimberly J. Brown above, with an oval shape, you can still be identified by make up individually by make up of shape.
In a nutshell, we can all be identified by our own make of, of shape-even if the same, still differ. For example, in my family either have a face of shape very long narrow-round & wider, more oval-round. I have found I have a face shape in between very flat, sometimes appearing more oval, am like neither. I have also found my long lost twin, very close has a much more oval shape than mine.
So, ever wondered what kind of face shapes there are, closest to yours. You could take the quiz here.
Or, for more examples, there is quick preview with links, of a visual gallery below…
---
Geometric:
Round (100% equivocal space, round all around the unit)- This is an example of Michelle Williams and there are more. For more, click on the link.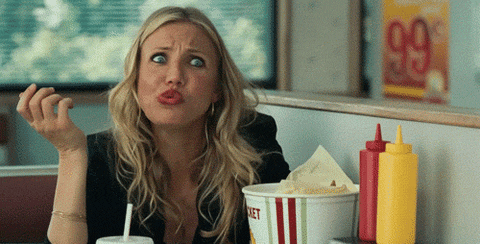 Roundish/Elliptic: (Slightly elongated, flatter version of 100% round shape)-This is an example of Cameron Diaz's shape. It is very round, but more elongated-flatter form, of, oval. It might appear wider, but looking closer her oval shape is equally long as it is round-wide. However, not all examples are equally round-wide as well as long. For more examples click on the link under the picture.
Trilateral/Heart Shaped:  The term "Trilateral" means three sided. I didn't want to get mathematical and use the term trianagular. The examples include heart shaped whether more wide-round, even equally long, wide-round. Or, more narrow, long-narrow being Conic/Skinny Heart shaped (depending on perspective of trilateral:cone or a narrow version of heart shape). Or, even long angular like Elizabeth Perkin's face shape above. For more examples click on the link under the picture.
Quadrilateral:  The term quadrilateral, implicates square-rectangular. There is also a four-side figure, rare, unique being a "Diamond in the rough" . In addition, I have found only one diamond example. For the preview, I decided to show a square shape example being Josh Hutcherson's. Notice he resembles closest to most people who have a square shape? A few examples with similar square shape like his include:  Colin Eggbert (closest), Michael J. Fox and Robin Williams. For more examples click the link under the picture.
---
Extended, is more of a shape noticably long-narrow, neither equally eliptic-trilateral shaped. I also use the term losely when refering to a shape, noticably long-narrow. One example would be Meg Ryan's kite shape. It is is between equally elliptic-trilateral, with a more of a disc or rotated, elongated version quadrilateral form. More about the example I used below…
Belated: Like the shape, this has to be revealed in more of it's depth…
It has excessive space on bottom of regular shape on 1st 2/3 of shape of face)- This has a free form, belation, of chin. The 1/3- 2/3  part of shape/forehead-between nose and lips, are more formed like a round-trilateral unit.

The rest, is the belated, more part of vertical chin. In this example, of Rachel McAdams, she has a belated oval unit. Notice the similar oval formation from forehead-between nose and lips, with the rest of flatter, vertical breach of chin?
Also, Emma Watson and Jennifer Garner, similar to her in shape, also have a similar round-trilateral, belation of chin. For more click the link under each picture.
Thanks for visiting the Face Shapes Gallery. Showing these real life examples, might make it easier to draw a certain person desired, even self. Or, just for purpose of curiosity. Anyway,  and I am reorganizing the galleries as well as many other pages. Thanks for visiting!